Harrenmedia: 8 years in the online advertising industry in LatAm – Our History
In 2007, the first adnetworks in Latin America were created, and the banner was the undisputed king of online advertising and platforms, like YouTube (2005) and Facebook (2004), that were emerging.The metric of success in the world of adnetworks was the number of impressions, as this indicator calculated the audience reached or reach.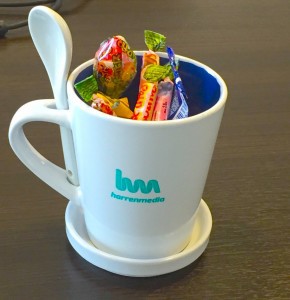 Harrenmedia was born 8 years ago today among these circumstances. I keep a commemorative, first anniversary cup on my desk that was given to me by the first team at Harrenmedia; the caption reads: "One year completed – by billions of impressions!!!". To see it every morning makes me emotional for the journey we have travelled and certainly reminds me of the constant change in the industry of which we are a part of.
A key to our growth has been identifying trends and developing cutting-edge tools. Innovation and risk gamble.
In 2009 we implemented the first campaigns that use data. Harrenmedia was the first company in Latin America to launch a product with these features through Sniper.
Then the first Data Management Platforms (DMPs), such as Exelate, now acquired by Nielsen, (NLSN) or BlueKai, now acquired by Oracle (ORCL), did not have or were not interested in obtaining or collecting data from Latin America.
The disinterest of the aforementioned companies explains the enormous cost that represents collecting and clustering of data for a market that had no customers willing to buy it.
For us, acquiring that information represented an investment of approximately USD 200,000 per month, an amount out of the digital economic reality for the region.
However, far from being discouraged or settling, we decided to develop our own product.  Many leading brands raided the data market for the first time in Latin America through Sniper, now DMP.
In 2012, when online ad spending in the region exceeded $ 38 billion, the industry was creating more sophisticated, new forms of investment, in order to obtain better performance through the most accurate targeting possible.
This year we identified that the ATDs (Agency Trading Desks) began to join the exchanges directly, generating an increasingly significant demand through programmatic purchases and Real Time Bidding (RTB), or real-time purchases.
Within these exchanges included two major trends in online marketing today that set the pace for the industry both in technology and in creative: video and mobile.
Thus, we are talking about CPI (Cost per Installation) or CPVC (Complete Cost per View) guidelines, terms that were not part of our business a few years ago.
Since 2014, we have found that social networks allow the user to publish and manage information placed on the Web, the trend indicates that the future of advertising spending by anyone that has an advertising budget and access to DSP or PMP, will have access to a wide pool of inventory that is unattainable, in economic terms, for even the most aggressive advertiser.
It would appear that the average buyer is no longer necessary, though certainly his guide adds value to the client and is very helpful for our daily operation.
This scenario was unthinkable in 2007. And even more unimaginable at that time to think that newbies Facebook and Youtube would now be major determining factors in the market. And it is more "incredible" to think that they are the two big players that are now implementing programs and technology whose purpose is to kill the banner. The King is dead, long live the king.
Noting this story, certainly the first great conclusion is that we maintained the attitude of a technology startup. We learned, we implemented, we adapted and we created solutions to the rhythm – sometimes frantic – of a market that never sleeps.
Now 8 years have passed, 6 offices in 3 continents and 262 employees later (this is the number of people who have worked at Harrenmedia throughout this time) we have no choice but to be grateful for living in the times we do and to be excited for what lies ahead.
The future looks challenging, and we should not hesitate to ride the innovation wave that we are already on. Harrenmedia will be operating in 5 continents and incorporating the most advanced and secure technologies where the secret lies in capturing and developing the most talented human capital.
Thank you for these years!
Pablo Potente
CEO Harrenmedia